DRAX POWER STATION'S, UK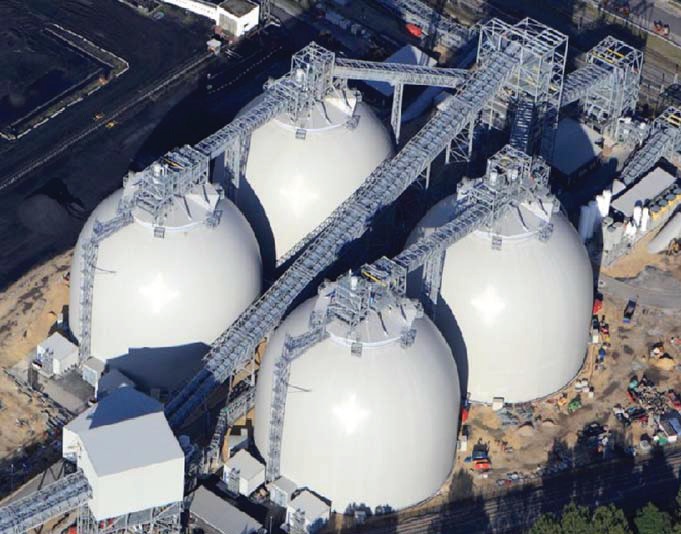 Drax Power Station's £80 million biomass cofiring plant, the largest project of its kind in the
world. The new facility receives, handles, stores and process the renewable energy source biomass – from sustainable low value wood materials – ready for direct injection into Drax's three upgraded units. The biomass facility at Drax now accounts for 50% of the power generation, around
2000MW. With Drax generating up to 8% of the UK's electricity needs. Drax has been leading the world with new technologies to enable sustainable generation and electricity supply from biomass.

The bulk storage facility at Drax Power Station includes four climate controlled storage domes each holding around 75,000 tonnes of biomass. Each storage dome is 63m in diameter and 50m high which supply biomass to the boiler feed silos. Delivery to these domes is by train – on average, 17 biomass trains arrive on site everyday over a six day working week. The specification specified by Drax, was to provide a biomass volume measurement system to an accuracy of 3%. Following trials at Drax, the APM Solutions scanner technology was agreed as the solution to meet these exacting storage domes and the specification.

Pre design stage – mathematical level simulation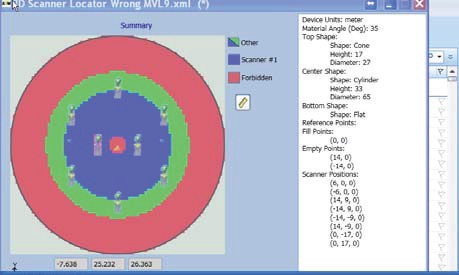 Before any engineering or installation work, APM ran mathematical models to simulate the material level from 0 to 100%. This process identifies how many APM measurement devices will be required and their optimum location. This process was then used by the engineers to finalise on the installation and design drawings before any installation work commenced. This report confirmed the expected accuracy of 3% with this configuration following installation.
APM volume measurement system

APM Solutions measures the level of material over the surface area using eight 3D level scanners, measuring over 400 level points over the material surface. From these level measurements, an analogue signal is provided proportional to this average level of material. These dome material volumes are logged as a record of activity. Volume readings are also provided in cubic metres, the same units of measurement as the train deliveries. These scanners are unaffected by dust even when filling making for a very reliable measurement system. The accuracy of this measurement system has been
proven to be within the 3% accuracy specification. For such a key part of this major project, the accuracy and the reliability of measurement in these domes is critical if Drax are to maintain reliable feed to the boilers.
3D graphics of silo material Checks for loading and outlet performance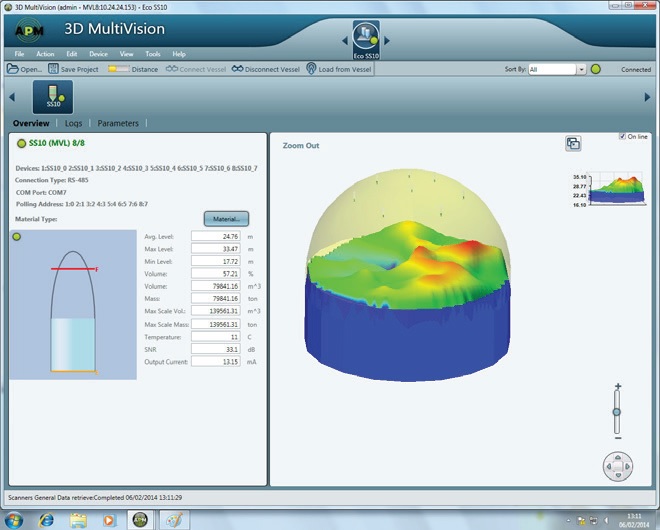 The APM measurement system provides a unique feature, a 3D image of the material surface. This image is displayed on the APM Multivision software which is used by control room managers to monitor the movement of material in each dome. This image is used to check on the structural loading and performance of the silo under all conditions.

This graphics shows all measurement date plus the realtime 3D
image. The Multivision software enables multiple client access to all
realtime measurement data & graphics. The ability for managers to
access this data & graphics is timely information which is critical in
decision making for a successful plant management.

Testimonial: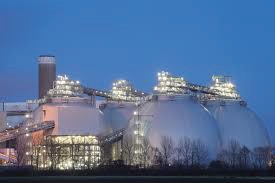 "We have found the APM scanner systems provide a good representation of the storage silo contents, thereby enabling our Operations and fuel procurement teams to effectively manage the stock levels. The suitability of this technology for typical large silo applications offers high availability, reliability and we believe it to be a cost effective solution for this application when compared with
alternative technologies. For similar mission critical applications we acknowledge the suitability of these systems and would look to APM for future provision."

Robert Wilson
Lead Project Engineer Drax power ltd.